People are always asking me how to lose fat, tone up, and boost their metabolism. The real question people should be asking is "why is my metabolism slowing or slowed down?" The simple answer to that question for most people is long periods of inactivity, AKA desk jobs.
The best way to combat  low metabolism is a combination of eating right (not starving yourself or skipping meals), and being more active during the day. I recommend breaking up the work day of sitting behind your desk by implementing short intense bouts of simple exercise…enter pushup boot camp! 🙂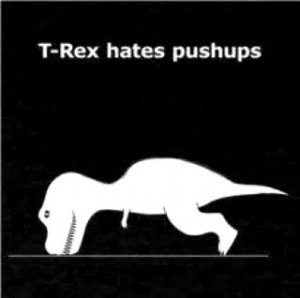 Pushup boot camp is comprised of 2 simple exercises that don't require any equipment or very much space. The 2 following videos cover most of the details for pushup boot camp. Below the videos you will find a chart that helps you determine your numbers for each exercise.
So if you are interested in trimming your waistline, boosting metabolism and feeling more energetic, I challenge you to do just that. Go watch these 2 quick videos and take the Pushup Boot Camp for a test drive for 6 weeks. Stick with it and I guarantee you'll be happy you did.
Part 1:
Part 2:
Your Homework Chart (find the average of your 2 max pushup sets in the chart for your homework:
Your max
5-10 = 5 sets of 8 pushups/20 prisoner squats
11-15 = 5 sets of 13 pushups/30 prisoner squats
11-20 = 5 sets of 18 pushups/40 prisoner squats
21-30 = 5 sets of 27 pushups/50 prisoner squats
31-40 = 5 sets of 5 1-arm pushups/60 prisoner squats
Complete your 5 sets of homework exercises (at home or the office) 5 days a week…Monday-Friday is great!
I'd love to know what you think, so go comment below using the facebook comment bar and lemme know. Thnx!
Chris
PS. If you're looking for more results & accountability or even just some variety in your program, go here: https://www.21daymetabolicmakeover.com/index.html