Turkey Mushroom Stew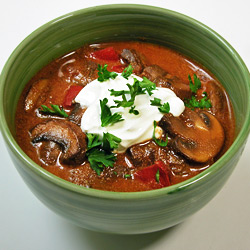 This is a deliciously spicy, chunky stew. This stew is great during the fall and winter with nice thick slices of fresh Italian bread (if you're naughty & cheating on your diet). Goes over really well after a long day on the mountain!
Categories: Lunch, Low Calorie, Dinner, High Protein, Dairy-Free, High Fiber Diet
Here's What You Need
1 large green bell pepper, chopped
garlic powder to taste
1 large onion, chopped
Italian seasoning to taste
2 (28 ounce) cans no-salt-added crushed tomatoes, with liquid
1 pound fresh mushrooms, chopped
ground black pepper to taste
1 (15 ounce) can kidney beans
1 pound ground turkey
1 (28 ounce) can no-salt-added whole tomatoes, with liquid
1/2 cup hot pepper sauce
1 tablespoon vegetable oil
Instructions
Heat the oil in a skillet over medium heat, and cook the turkey until evenly browned.
Season with garlic powder, Italian seasoning, and pepper.
Drain, and transfer turkey to a large pot.
Mix the crushed tomatoes with liquid, whole tomatoes with liquid, kidney beans, and hot sauce into the pot.
Stir in the green bell pepper, onion, and mushrooms.
Bring the mixture to a boil, reduce heat to low, and season to taste with garlic powder, Italian seasoning, and pepper.
Continue cooking 1 hour, stirring occasionally, or to desired consistency.
If the stew is too thick, mix in some water.
Nutrition Facts
Servings: 10, Calories: 193, Fat: 6.4g, Cholesterol: 34mg, Sodium: 500mg,Carbohydrate: 21.4g, Protein: 15.1g
Share This Recipe and share your comment below!