From the day I was born, to becoming an "adult" and even now after his passing, I've learned many valuable lessons from my dad that have positively shaped my life and my future.
In this post I'm going to share with you the 5 lessons that have made the greatest impact on my life and explain how they relate to your fitness. (a little over a week ago from today my father passed away. While I miss him and that makes me sad, I'm relieved that his suffering is over and he can finally be at peace. )
Lesson #5 will literally change your life and the way you apply yourself to everything you do, now and in your future. I'm happy to share this with you because I think the best way to honor my dad is pass on his teachings to you and your loved ones. So ya better keep reading! 😉
Are you sitting down with pen & pad? Better go get it. I'll wait…
Okay, ready?
I can sum up at least 5 lessons from my childhood when my dad was teaching me to chop fire wood. Here we go…
Lesson #1 (wow…this is WAY harder to write than I thought it would be 🙁 )
I learned this lesson as a small boy watching my dad split wood (we had a wood burning stove heating our house. Every time he swung the ax the wood split in two easily…the wood never stood a chance.
After many weeks/months of asking to split wood, my dad reluctantly handed me the ax and told me to go for it (obviously warning me to be careful so I didn't chop off my own leg).
My dad said "try to hit the center of the wood", I think to keep it simple (another valuable lesson he taught me) at first. So I swung with everything I had, nearly missing the wood, knocking it over without splitting it in the least. I picked up the piece of wood and tried again, and again, and again. Never getting it to split.
Even the one time I managed to hit the center (one out of 100+ tries lol) I still couldn't get that darn piece of wood to split. I decided I hated chopping wood and I gave up. My dad didn't want me to be a quitter, so he decided it was time to tell me the secret to splitting wood – He said, "look closely here son. Do you see
these cracks in the center of the wood? When you can hit the big one there, you don't have to work so hard. The wood is already weak there." (I was going against the grain). THE LESSON = Know your goal so you don't waste your energy in the other direction. As this relates to your exercise, don't just set your goals. You have to know why your goals are important to you. Otherwise you'll give up way to easily and you will fail.
Lesson #2 & 3
Chopping wood was not my strong suit. I swung and failed more times than I can count. I just couldn't get the ax to hit the sweet spot.
Knowing my goal wasn't enough. I needed practice and coaching. My dad made me work for it though. Every time I started to give up or outright quit, my dad gave me another piece to the puzzle and brought me one step closer to becoming a master wood-chopper like himself. The LESSON = Having a coach reduces frustrations & cuts the learning curve.
One day I was chopping wood, swinging with everything I had, inefficiently as usual. When my dad stopped me. He said I was swinging way too hard to hit my mark. I was swinging with my arms, instead of using my whole body, hence the wood wasn't splitting like it was supposed too.
Once he corrected my form and showed me how to hold the ax, and progress through the swing using my legs and my core, I was able to hit the sweet spot! I still only hit it ever one out of five swings, but that was a huge improvement by nearly 500%. The wood was splitting more often with less effort. I was stoked and I liked chopping wood again! THE LESSON = Form First – Results will improve dramatically when you do it right the first time. As this relates to your exercise – don't cheat on form. It reduces the effectiveness of your exercise and can even lead to injury. Your results are directly related to your form, so do it right.
Lesson #4 & 5
Chopping wood was fun again! I loved chopping wood. Chopping wood was an every weekend thing in the summer, and I was getting better every weekend! By my 3rd summer, I was able to chop enough wood in a couple hours to make a pile that you couldn't see me over, it was so tall! I chopped and chopped and hung up my ax…it was time to go play with my friends 🙂 Just as I was running out the door my dad stopped me and said "where do you think you're going? There's a big mess in the front yard and you haven't finished your chores."
"But dad!!!" I complained. "All my friends are waiting. I chopped all the wood." He reminded me that the pile wasn't going to pick itself up. I needed to stack it. I loved splitting wood! It was actually fun 🙂 But I hated stacking it. However, the yard looked like a bomb went off and split wood was scattered everywhere. So I had to pick it up and stack it. My friends were all playing so I rushed through and stacked the wood as fast as I could, not paying attention to detail. When the wood was all stacked I ran off to play. Son after I heard my dad calling me back home…The stacked up wood pile had fallen down and broke some small yard tools, etc. So despite my best efforts to get out of it, I had to stack the wood pile up again while my friends continued playing and having fun. TWO LESSONS = 1. Sometimes you do the things you want to, other times you do what you have to do to get what you want. 2. Do things right the first time so you don't have to do them over again. As it relates to your fitness, don't rush through your exercises. Do them right, make them count, you will reach your goals with less time and effort that way.
There are so many lessons my dad taught me, but this one is by far the most important lesson:
Be relentless – My dad was diagnosed with cancer and given 6 months to live. He was in pain a majority of the time, although, he was very good at hiding it for everyone else's sake (mini lesson-be selfless). My dad knew he wanted to be around and spend time with his family no matter what pain he dealt with. So he fought. He fought with everything he had for over 15 years! Because he gave it his all and fought relentlessly, he was rewarded (and rewarded us) with another 15 plus years together as a family.
If you want something bad enough, you can have it. But only if you give it your all. Be relentless in the pursuit of your health and fitness goals and NOTHING CAN STOP YOU!
YOUR ACTION STEPS:
1. Figure out your SPECIFIC goals and why are they important to you? DECIDE that you WILL achieve them.
2. GET a coach to guide you and hold you accountable. Don't waste energy on the wrong things.
3. LEARN & APPLY yourself to your program. Practice your form and get better.
4. Commit to your goals Sometimes you have to do things you don't always like to get what you want.
5. BE RELENTLESS! Let nothing stop you from achieving your goals. Don't let anyone tell you you can't. Fight for what you believe in and want. You're worth it!
Other important lessons that may not always impact your fitness:
-Family is important. Tell them you love them daily.
-Keep it simple. If things are complicated, they tend to get put off.
-Work hard, but don't forget to have fun. Going full speed in work mode all the time will burn you out.
-Stand up for what you believe in. No one can do it for you, and no one likes a door mat.
-Respect your elders. Chances are, they already did that stupid thing you're thinking about trying.
-Don't put off your work and avoid it. Attack it head on and get it out of the way. The only thing that eliminates anxiety is taking action towards a solution.
-Be good to people. Someone is always watching.
-Don't lie. Not to anyone. Not even yourself. It only leads to trouble and someone's feelings getting hurt. No one likes being lied to.
-Think objectively, ask questions, make your own decisions. Otherwise you will never be happy with an outcome.
-Be yourself. No one can do it for you and no one can do it better.
There are many more, but I'd like to hear what lessons you've learned from your parents. Please comment below to share your top lesson or 2.
---
I found another great article for you. Check it out!
How to Get All the Nutrients You Need Without Animal Products
By Kardena Pauza
www.EasyVeggieMealPlans.com
How to Get All the Nutrients You Need Without Animal Products
The most common argument against a vegetarian diet is that you can't get enough calcium or iron, or that you will need to get a Vitamin B12 shot from your doctor.
However, it is easy to get plenty of calcium to build strong bones and it's not difficult to get enough iron. The ONLY nutrient that will take a little extra effort is Vitamin B12.
Calcium
Everyone thinks you need to drink milk to get calcium, but cows, horses, gorillas, and elephants, some of the world's strongest and most powerful animals, all have built their big strong bones on a vegetarian diet.
Plant based calcium sources are easier to digest, and you don't have to worry about being lactose intolerant when you eat plant based calcium sources.
The BEST non-dairy sources of calcium are fortified beverages (such as soymilk and orange juice) and dark, leafy greens like kale and broccoli. Other foods like legumes and almonds can give you calcium.
Iron
Iron is an important element in your red blood cells to help carry oxygen throughout your body. Iron deficiency is known as anemia and is characterized by chronic fatigue and
being susceptible to infections. If these symptoms exist then you MUST first visit a doctor to verify and diagnose the issue.
Since meat is traditionally known as the best source of iron, people think vegetarians will end up iron-deficient and anemic.
However, there are many iron-rich vegetarian foods, and by eating a variety of whole foods the vitamins, minerals, and phytonutrients work together synergistically to maximize absorption of the other nutrients in the foods.
For example, scientists have found that eating vitamin C rich foods with iron rich foods (like spinach) increases the absorption of iron. For example, because bell peppers give you 230% of your daily Vitamin C requires (that's more than twice as much as oranges),
you can eat a salad containing spinach and bell peppers and you'll absorb a lot of iron.
Plant SOURCES of iron range from green leafy vegetables (spinach, collard greens,
swiss chard, kale), whole grains, legumes, soy beans, black strap molasses and dried fruit. And remember to eat foods rich in vitamin C to enhance absorption.
With that being said, the RDA recommends for pre-menopausal women 15 mg per day and 10 mg for men and post menopausal women.
Here's a list of iron rich foods:
Broccoli ½ cup 0.7 mg
Tofu ½ cup 13 mg
Black beans ½ cup 1.8 mg
Molasses, black strap 1 Tbl. 5 mg
Raisins 1 oz. 0.7 mg
Parsley 3 Tbl. 0.6 mg
Whole wheat cereal 1/3 cup 1.1 mg
Oats, whole rolled 1/3 cup 2.5 mg
Lentils, sprouted raw 1 cup 2.5 mg
Buckwheat 1/3 cup 1.3 mg
Kale fresh 1 cup 1.1 mg
Beets 1 cup 1.1 mg
Wheatgrass juice 1 oz. 0.6 mg
As you can see, it's not hard to get enough iron by consuming whole, natural foods. In addition, many foods – such as breads and cereals – are now FORTIFIED with iron which can help supplement your diet if necessary. However, just watch that these cereals and breads are not refined or full of additives or preservatives.
Vitamin B12
Vitamin B12 is essential for your body and is stored in the liver and released when it is needed.
You may need to talk to your Doctor about taking a Vitamin B12 supplement because this is the one nutrient that is not naturally found in plant foods.  So it is ESSENTIAL to make an effort to add this to your diet.
Foods fortified with Vitamin B12 include non-dairy milks (soy and rice milk), veggie "meats" and breakfast cereals. But look at all the ingredients in these foods to eliminate refined products or additives and preservatives.
I personally use "Living Vitamin B Nano Plex" as an excellent source of Vitamin
B12. It is the first Vitamin B12 made from probiotic fermentation which is more
bioavailable to the body. Another option is taking B12 sublingual (dissolve under the tongue). I recommend methylcobalamin which is naturally occurring.
Cyanocobalamin is a commonly used synthetic B12 supplement that's also used in fortification of foods because it can be produced so cheaply. When cyanocobalamin is metabolized in the body the by product created in small amounts is cyanide. We are not exactly sure the impact on the body but I don't feel comfortable using it.
~Kardena Pauza~Author of Easy Veggie Meal Plans
—————————————————————————————————————-
Read more about  getting lean and strong with Easy Veggie Meal Plans @ www.EasyVeggieMealPlans.com
---
Hey! I'm borrowing (with permission) this article from Kardena Pauza (author of Easy Veggie Meals). It's awesome and if you're a vegetarian struggling to lose weight, you need to read it!
The Truth About Vegetarian Protein
By Kardena Pauza
The most common question people ask me about my vegetarian diet is,"How do you get enough protein?" You have a toned body and how do you build muscle without eating meat?"
Well, while I agree it is important to have protein in your diet, there are two things to know.
1.   We really DON'T NEED as much protein as most people think.
2.   It's actually quite easy to get all the protein you need from a plant-based diet.
It's amazing how many people are concerned about a lack of protein, but in our Western culture, almost NO ONE needs to worry about suffering from a lack of protein.
We've been brainwashed by supplement companies and magazine ads into thinking we need one gram of protein per pound of bodyweight, but science has NEVER shown that level of protein intake to be needed.
In fact, what we really see is people eating excessive amounts of protein and sometimes so much that they get fat and very ill!
Like I said, getting enough protein has not been a concern in our country, we see very few cases of protein deficiencies and the few cases typically are in poverty stricken areas.
Typically in this situation there is an overall deficiency of calories and most nutrients not just a lack of protein.
But as long as you follow a whole food meal plan giving you at least 1600 calories, you will easily get enough protein.
According to the World Health Organization (W.H.O) you need to consume a minimum of 10% of your daily caloric intake from protein to be healthy and build lean muscle. The
World Health Organization is the leading authority on human health and is dedicated to improving the quality of people's lives around the world.
The only places the W.H.O discovered minor protein deficiencies were in underdeveloped countries that did not have access to a variety of foods and protein and consequently these people had a lack of over all nutrients not just protein. The W.H.O is attempting to deliver more legumes to these areas to balance their diet and insure they get enough protein.
Countries that eat a sufficient amount of calories and variety don't see protein deficiencies. A variety of foods everyday is what will give you a well balanced diet.
Let's take a look at an example as we review protein needs. As I mentioned in the above paragraphs, the recommended amount of protein for a vegetarian is a minimum of 10% of your daily calories.
EXAMPLE:
If you are eating a 1,600 calorie diet, 10% of that would be 160 calories. Each gram of protein has 4 calories, so that calculates out to 40 grams of protein per day. This is easy to do!
All you need to do is eat a ½ cup of lentils you are getting about 10 grams of protein and a hard boiled egg has 7 grams of protein. You are 1/3 of the way there!
Of course, it's still easy to do if you are vegan. Oatmeal has about 7 grams of protein per serving, hemp bliss has 5 grams of protein per cup, and quinoa and spelt pasta have 10-15 grams of protein per serving.
Here's ANOTHER WAY to determine how much protein you'll need.
The recommended amount of protein is 0.49 grams per pound of bodyweight (NOT 1 gram of protein per pound of bodyweight like steroid-using bodybuilders suggest).
You can also determine your minimum amount by taking your bodyweight and multiplying it by .49. Example- If you weigh 130 pounds x .49 = 63.7 grams of protein.
However, if you are overweight and use this formula, you will dramatically OVER-estimate your protein needs. Therefore, you can use your target weight when doing this calculation. So if you are 160 pounds but want to be 130 pounds, just use the 130 pound target weight in the calculation.
These 2 methods give you slightly different amounts of protein so you can see there is no exact measure but at least gets us in the minimum acceptable range.
For our purpose of weight loss I have found that up to 20% of your daily calories from protein will help you increase your metabolism, curb your appetite, and help you build lean muscle. But you don't need more than that.
~Kardena Pauza~Author of Easy Veggie Meal Plans
————————————————————————————————————-
And there you have it. A vegetarian diet that will help you get the lean, toned, sexy body you want! Learn more here: www.EasyVeggieMealPlans.com
---
See if one of these 3 scenarios describes you:
1: "I generally eat clean and healthy, but I tend to skip my workouts."
2: "I'm very consistent with my exercise, but my nutrition needs work."
3: "I usually eat healthy and do all kinds of cardio, but I never lift weights."
If you fall into one of these categories, you're most likely not seeing the results you desire, because all of these are a HUGE no-no if you're serious about changing your body and your health.
In fact, if you're failing to meet your fitness goals, this is probably the #1 reason your fitness plan is failing.
If you eat clean, but don't exercise, you might lose weight or be "healthier", but you'll never really develop that lean % toned, sexy body with flat abs you want.
If you workout like your life depends on it, then you eat crappy food, or a half-@$$ed clean eating plan, you might be strong and muscular, but you'll never see it under that annoying layer of stubborn fat that's covering it.
If you eat clean and do tons of cardio, but neglect your strength training, you could lose weight and completely lack muscle tone- AKA. "skinny-fat".  (not cool either)
Even though nutrition is the single most important factor that determines your weight loss (or not weight loss), you can't ignore the importance of cardio intervals and strength training.
If you're struggling to reach your fitness goals, this is your friendly reminder to take a good look at, and make sure you're applying all 3 legs to your program. Otherwise, you're likely to continue struggling until you eventually get so frustrated you give up and quit all together.
If you're missing even one of the legs of your fitness tripod, it's likely you'll fall short of your goals…but even worse, there's a good chance you can even gain back all the weight you've worked so hard to get rid of. Remember, a tripod doesn't stand for long when you kick out one of it's legs – your fitness program is a tripod. Make sure you build strong legs for it to stand on.
The good news is,you can eliminate all the guesswork by using one of my proven programs that I use with my clients.
---
Do you drink diet soda? Do you think you're doing just fine? There are numerous side-effects that you may have and you just don't know it yet. Diet soda is EVIL! But don't take my word for it. This picture tells all about it. Check it out and post your comments, questions and or experiences. But more importantly, SHARE this information with your friends and people you are about.

---
Blueberry Flax Pancakes
Fluffy pancakes with ground flax seed and blueberries for a healthier, fiber filled pancake.
Categories: Breakfast, High Protein, High Fiber Diet, Vegetarian
Here's What You Need
1/2 cup flax seed meal
1 cup skim milk
1 1/2 cups dry pancake mix
1 cup fresh or thawed frozen blueberries
2 eggs
Instructions
Set a nonstick skillet over medium heat.
In a medium bowl, stir together the pancake mix and flax seed meal.
In a separate bowl or measuring cup, whisk together the milk and eggs.
Pour the liquid into the dry ingredients, and stir just until moistened.
Spoon 1/4 cupfuls of batter onto the hot skillet.
Sprinkle with as many blueberries as desired.
Cook until bubbles appear on the surface, then flip and cook until browned on the other side.
Nutrition Facts
Servings: 4, Calories: 355, Fat: 10.3g, Cholesterol: 107mg, Sodium: 798mg,Carbohydrate: 53.4g, Protein: 13.6g
Share This Recipe by commenting below and feel free to share it on Facebook 🙂
I hope you enjoy this recipe as much as I do.
Chris, Owner TCMM Fitness Studio
PS. If you are looking for a program that is proven to maximize fat loss, energy, muscle tone and more, you will find it here:
www.21daymetabolicmakeover.com
---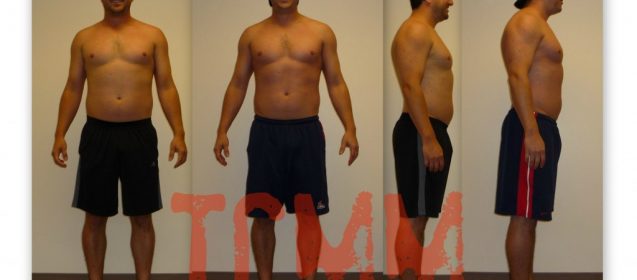 It's absolutely true! Jay Jeffries burned 7.8% body fat in less than 1 month! He did such a great job that I asked if it would be okay to post his interview and share it with you. His interview is below. We hope it will inspire you to get moving towards your fitness goals. He burned 7.8% body fat in less than one month?!! Read how he did it below.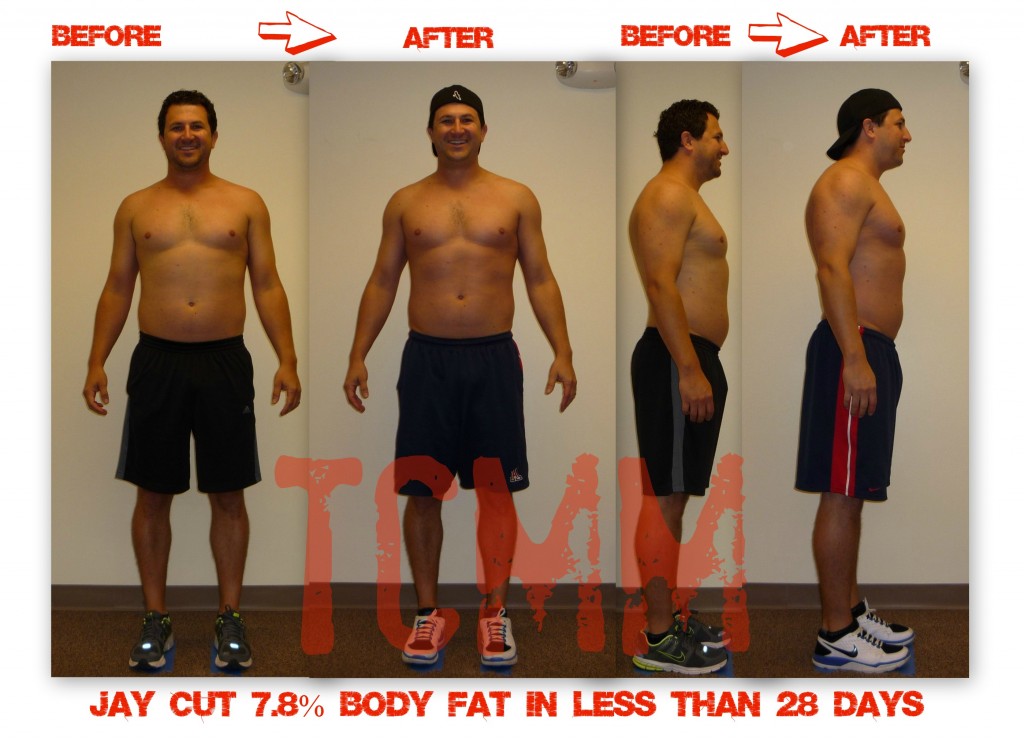 Jay Jeffries Interview:
Q: Tell us about you. Who are you? Age? Hobbies?
A: I'm a normal 40 year old guy who used to be very active/athletic until career, travel and family life became my excuse and priority over my health. I love to swim competitively, play golf and most other sports. I'm also a huge fan of wine and craft beers, which gets me into trouble with my trainer from time to time.
Q: What do you do?
A: I work for a major consumer electronics company and manage the Costco, Amazon, etc. business for them.
Q: What was life like before our program?
A: I was not setting aside time to workout. Stress from my work, business travel, and a new child was consuming me and I was piling on the weight. My muscles were atrophied and I had little to no energy to play with my son. My diet was carbs, carbs, wine/beer, carbs, fat and maybe an apple followed by more wine/beer….delicious but not sustainable.
Q: What challenges did you face with fitness before our program?
A: Stress, lack of energy, gaining weight and bad diet.
Q: What results have you got from our program?
A: Happy to say that I lost over 8% body fat in my first 3 weeks! Increased lean muscle mass and tone and have way more energy!
Q: What was one thing that helped you the most?
A: Only one? The diet plan and scheduling time each day. I live by my calendar and appointments. If it's not on my schedule, it most likely won't get done.
Q: What would you recommend to someone who wants to accomplish results like yours?
A: The Chris Meredith Method works! Get going today, don't put it off! Stick to the program. Discipline yourself, invest in yourself and you will see results.
>>End Interview<<
So there you have it. Were you inspired by this story? Do you have an inspiring story, or want to become one? Learn how my fitness program can help you do that by clicking here: https://www.21daymetabolicmakeover.com/
---