Blueberry Flax Pancakes
Fluffy pancakes with ground flax seed and blueberries for a healthier, fiber filled pancake.
Categories: Breakfast, High Protein, High Fiber Diet, Vegetarian
Here's What You Need
1/2 cup flax seed meal
1 cup skim milk
1 1/2 cups dry pancake mix
1 cup fresh or thawed frozen blueberries
2 eggs
Instructions
Set a nonstick skillet over medium heat.
In a medium bowl, stir together the pancake mix and flax seed meal.
In a separate bowl or measuring cup, whisk together the milk and eggs.
Pour the liquid into the dry ingredients, and stir just until moistened.
Spoon 1/4 cupfuls of batter onto the hot skillet.
Sprinkle with as many blueberries as desired.
Cook until bubbles appear on the surface, then flip and cook until browned on the other side.
Nutrition Facts
Servings: 4, Calories: 355, Fat: 10.3g, Cholesterol: 107mg, Sodium: 798mg,Carbohydrate: 53.4g, Protein: 13.6g
Share This Recipe by commenting below and feel free to share it on Facebook 🙂
I hope you enjoy this recipe as much as I do.
Chris, Owner TCMM Fitness Studio
PS. If you are looking for a program that is proven to maximize fat loss, energy, muscle tone and more, you will find it here:
www.21daymetabolicmakeover.com
---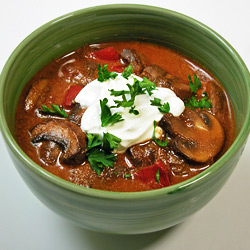 Turkey Mushroom Stew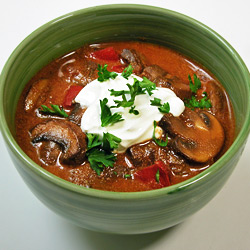 This is a deliciously spicy, chunky stew. This stew is great during the fall and winter with nice thick slices of fresh Italian bread (if you're naughty & cheating on your diet). Goes over really well after a long day on the mountain!
Categories: Lunch, Low Calorie, Dinner, High Protein, Dairy-Free, High Fiber Diet
Here's What You Need
1 large green bell pepper, chopped
garlic powder to taste
1 large onion, chopped
Italian seasoning to taste
2 (28 ounce) cans no-salt-added crushed tomatoes, with liquid
1 pound fresh mushrooms, chopped
ground black pepper to taste
1 (15 ounce) can kidney beans
1 pound ground turkey
1 (28 ounce) can no-salt-added whole tomatoes, with liquid
1/2 cup hot pepper sauce
1 tablespoon vegetable oil
Instructions
Heat the oil in a skillet over medium heat, and cook the turkey until evenly browned.
Season with garlic powder, Italian seasoning, and pepper.
Drain, and transfer turkey to a large pot.
Mix the crushed tomatoes with liquid, whole tomatoes with liquid, kidney beans, and hot sauce into the pot.
Stir in the green bell pepper, onion, and mushrooms.
Bring the mixture to a boil, reduce heat to low, and season to taste with garlic powder, Italian seasoning, and pepper.
Continue cooking 1 hour, stirring occasionally, or to desired consistency.
If the stew is too thick, mix in some water.
Nutrition Facts
Servings: 10, Calories: 193, Fat: 6.4g, Cholesterol: 34mg, Sodium: 500mg,Carbohydrate: 21.4g, Protein: 15.1g
Share This Recipe and share your comment below!
---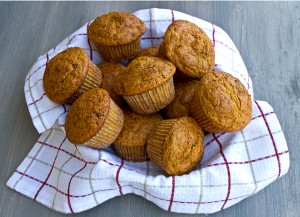 Pumpkin Spice Muffins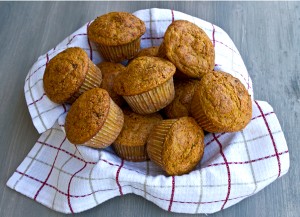 If you like a moist, sweet muffin rich with cinnamon and nutmeg, then look no further. This recipe is from The WEBB Cooks, articles and recipes by Robin Webb, courtesy of the American Diabetes Association.
Categories: Desserts, Snack, Low Calorie, Low Sodium, Low Fat, Dairy-Free, Vegetarian
Here's What You Need
2 cups whole wheat flour
1 cup pumpkin puree
2 eggs, beaten
1 teaspoon baking soda
2 cups unsweetened applesauce
2 teaspoons baking powder
2 tablespoons vegetable oil
2 teaspoons ground cinnamon
1 teaspoon almond extract
1/4 cup white sugar
2 teaspoons ground nutmeg
Instructions
Preheat the oven to 350 degrees F (175 degrees C).
In a medium bowl, mix together flour, baking powder, baking soda, cinnamon and nutmeg; set aside.
In a large bowl, combine eggs, pumpkin, sugar, applesauce, vegetable oil, and almond extract.
Slowly add the flour mixture to the large bowl until just blended.
Do not over beat.
Pour the batter into 18 nonstick muffin cups.
Bake for 25 to 30 minutes.
Remove muffins from the oven, and let cool slightly.
Remove the muffins from the pan, and let cool completely.
Nutrition Facts
Servings: 18, Calories: 98, Fat: 2.5g, Cholesterol: 24mg, Sodium: 165mg, Carbohydrate: 17.2g, Protein: 2.7g
Share This Recipe: https://thechrismeredithmethod.fitpromag.com/pumpkin spice muffins
---

This is a very simple and hearty chili with plenty of flavor. It's even better the second day! I serve this with lowfat Cheddar cheese and lowfat sour cream. It's also delicious with crackers.
Categories: Lunch, Low Calorie, Dinner, High Protein, Dairy-Free, High Fiber Diet
Here's What You Need
1 pound ground turkey
2 cups water
1 (16 ounce) can canned kidney beans – drained, rinsed, and mashed
1/2 teaspoon ground black pepper
1 tablespoon garlic, minced
1/2 teaspoon paprika
2 tablespoons chili powder
1 (28 ounce) can canned crushed tomatoes
1 1/2 teaspoons olive oil
1 onion, chopped
1/2 teaspoon salt
1/2 teaspoon ground cayenne pepper
1/2 teaspoon dried oregano
1/2 teaspoon ground cumin
Instructions
Heat the oil in a large pot over medium heat.
Place turkey in the pot, and cook until evenly brown.
Stir in onion, and cook until tender.
Pour water into the pot.
Mix in tomatoes, kidney beans, and garlic.
Season chili powder, paprika, oregano, cayenne pepper, cumin, salt, and pepper.
Bring to a boil.
Reduce heat to low, cover, and simmer 30 minutes.
Nutrition Facts
Servings: 8, Calories: 198, Fat: 7.2g, Cholesterol: 42mg, Sodium: 532mg, Carbohydrate: 18.8g, Protein: 16.3g
Be sure to comment below and share this recipe with your friends!
---